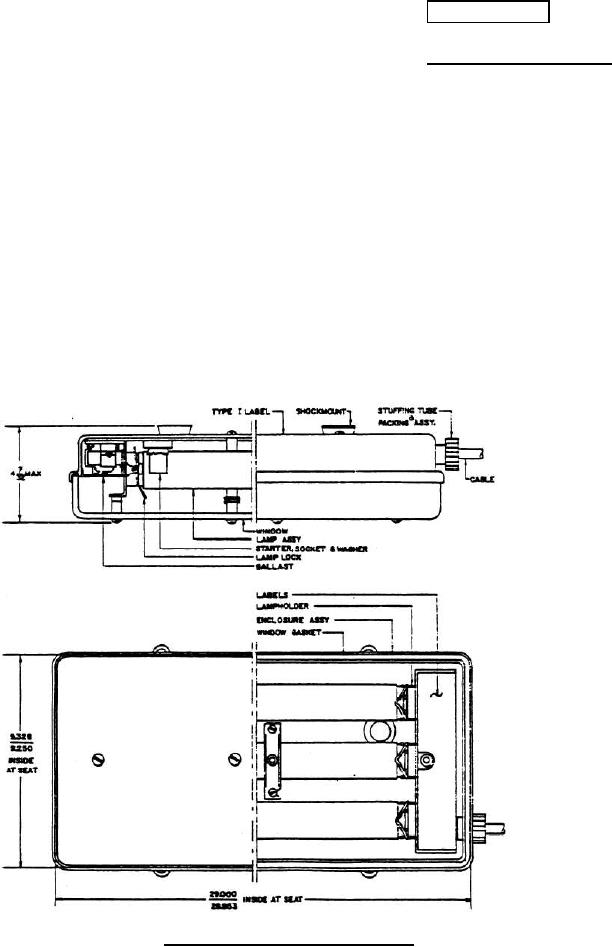 INCH-POUND
MIL-DTL-16377/12C(SH)
30 June 2014
SUPERSEDING
MIL-DTL-16377/12B(SH)
2 August 1996
DETAIL SPECIFICATION SHEET
FIXTURES, LIGHTING; FLUORESCENT AND SSL EQUIVALENT, GENERAL LIGHTING,
60 WATTS, 120 VOLTS, 60 HERTZ, WATERTIGHT, SYMBOLS 333.1, 333.2, 341.1, 341.2, 342.2, 342.3,
333.1SSL, 333.2SSL, 341.1SSL, 341.2SSL, 342.2SSL, AND 342.3SSL
This specification is approved for use by the Naval Sea Systems Command, Department of the Navy, and is
available for use by all Departments and Agencies of the Department of Defense.
The requirements for acquiring the product described herein shall consist of this specification sheet and
MIL-DTL-16377.
All dimensions are in inches. For tolerances other than specified herein, see 3.5.2 of MIL-DTL-16377.
FIGURE 1. Typical view of symbols 331.1 and 342.2.
AMSC N/A
FSC 6210
For Parts Inquires call
Parts Hangar, Inc
(727) 493-0744
© Copyright 2015 Integrated Publishing, Inc.
A Service Disabled Veteran Owned Small Business